Search Tyres by Vehicle Registration
Are you looking for Tyres Size for your vehicle?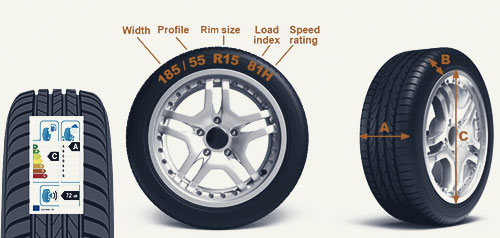 The tyre size does not seem to bother much until you need to purchase a new set of tyres. This series of numbers, letters and symbols may baffle you. But do note that tyre size is crucial to your driving safety and the performance of your vehicle.
With our professionals at Hi-Range Ltd, you can now easily purchase a set of new tyres Wychnor of the correct size as per your vehicle make and model.
Understanding tyre size meaning
Every tyre has a code inscribed on its sidewall which contains a series of numbers and letters. This size code must be carefully analysed during a replacement to ensure that the right unit has been fitted following manufacturer guidelines.
Let's take an example: 205/60R15 91V.
205 (Section width): First three numbers refer to the width of the tyre measured in millimetres. This unit measures 205 mm across the tyre tread from sidewall to sidewall.
60 (Aspect ratio/profile): 60 basically refers to height to the rim's tread base. It represents the tread width in percent. In this case, it's 60%.
R (Radial): In this particular case, R refers to radial-ply-construction. In Britain, most tyres are radial, meaning they have cord plies placed at 90˚ angles to the direction of mobility to provide the tyre with additional strength.
15 (Rim): Here, 15 indicates the rim's diameter of the rim, measured in inches.
91 (Load-Index): This refers to the maximum load-carrying capacity of this tyre. It means that this tyre can load a little above 600 kg.
V (Speed Index): According to the speed index chart, V indicates that this tyre can pick a maximum speed of 149 mph.
In case you found the information too complicated, don't worry.
You can also purchase a set of tyres online from our official website using our tyre configurator. Just type in your vehicle reg. And within seconds you can see the right tyres in the right size.
Conclude your search for "tyres near me" with Hi-Range Ltd. For more information, please visit our facility during business hours.