Search Tyres by Vehicle Registration
Are you looking for All Season Tyres for your vehicle?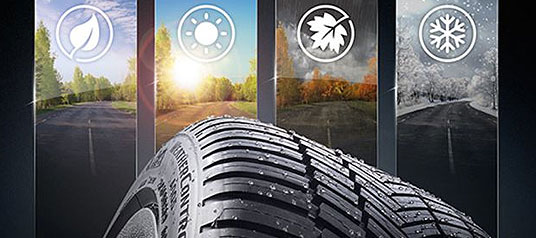 Car owners who are looking for a set of tyres that can provide commendable performance year-round can opt for all-season units. As the name suggests, all-season tyres can perform optimally in any weather condition (except extreme weathers) and offer reliable performance, enhanced wet grip, longer tyre life and safe driving experience.
Please note: These tyres are especially good for vehicle owners living in areas with moderate climate and for those driving rather low mileage over the year.
Are you looking for all-season tyres Staffordshire?
Buy a set of all-season tyres from Hi-Range Ltd online.
Expect only the best quality all-season tyres at our facility. We stock a complete collection of car tyres Wychnor that can match all your requirements.
Select all-season variants from our extensive collection, according to the tyre size, model, and brand of your vehicle.
Reasons to buy all-season tyres Wychnor
Robust performance: All-season tyres are made with all-adaptive tread compounds and feature a moderate tread depth. This feature enables all-season units to deliver enhanced handling, braking and traction on wet, dry and moderately snow-laden surfaces.
These tyres have thinner tread depth than winter units which help them to adapt to light winter conditions. On the other hand, these variants have thicker tread depth than summer tyres which help to offer enhanced wet grip.
Cost-effective: One of the biggest benefits of buying all-season tyres is that it saves you the cost and hassles of changing units twice a year.
Comfortable driving experience: All-season tyres enable you to enjoy a smooth and seamless driving experience along with matchless stability when cornering and enhanced traction on both wet and dry surfaces.
The specially designed blocks help the tyres to resist hydroplaning on wet surfaces while the large number of grooves optimises traction on snowy surfaces.
Prolonged tyre life: Another major benefit of buying all-season tyres is their durability. As these tyres feature a thicker tread depth, they last longer than summer units and take a longer time to wear down.
Tyre brands at our facility
You will find the following tyre brands at our garage, Hi-Range Ltd:
Bridgestone
Continental
Michelin
Pirelli
Goodyear
Yokohama
Landsail
Uniroyal
GT Royal
Avon, etc.
We suggest you stop your searches for "all-season tyres near me" with us at Hi-Range Ltd.
You can visit us at Lichfield Road, Wychnor, Staffs DE13 8BZ during business hours. Also, you can place us a call on 01283 792302, 07770 040070 for a booking.
Besides, if you have any query, feel free to drop a line at uk777motors@yahoo.co.uk.
Our experts will be more than happy to be at your service.